Stucco is the first multi-unit residence to achieve a unified solar panel and battery network in Australia. We are proud to join the solar revolution in our transition from dirty coal to renewable power, in light of the impending climate catastrophe.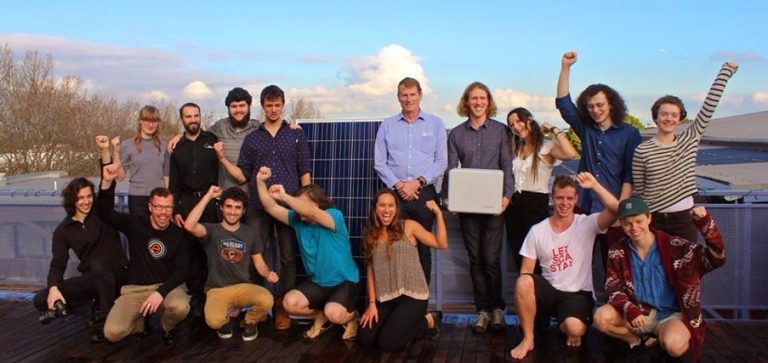 In 2015, the City of Sydney Council awarded Stucco an "Environmental Performance Innovation Grant" to the value of $80 000. Our solar system is a test case and demonstration of solar–photovoltaic and battery storage installation in the context of multi-unit residences. The project was launched on Monday 5 December, after a year of wrangling through regulatory and legal hoops. The solar project cost $130 000 ($97k for the technical system and $33k in volunteer work and Stucco funds). We expect it to pay for itself in six or seven years.
The solar system has 114 panels and 36 batteries, producing 30 kWh with storage capacity for 42.3 kW. It is estimated to provide 80% of our energy usage, although on some days we will be fully powered by the magic of sunlight. Electricity costs for us, per resident, are set at a maximum of 10c during off-peak and 40c during peak hours. This means that we expect savings of $35 per month (in 2016 dollars).
The project was managed by Louis Janse van Rensburg and Bjorn Sturmberg, both former residents of Stucco, with media and publicity handled by Sarah King (2016 President of Stucco). Current members of the cooperative pitched in to help in any way they could. Former members provided immense assistance, including pro bono legal advice from Gail Christopher from Gilbert & Tobin.